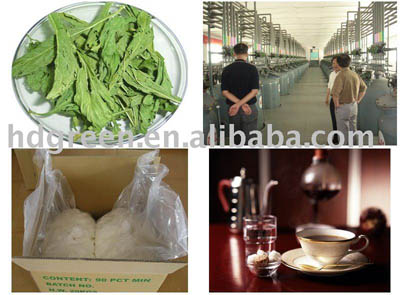 Specifications
Stevia (Stevioside)
1) Natural sweetener
2) Prevent diabetes, adiposity
3) High sweetness
4) Low calories
Stevia (Stevioside, Rebaudioside A) is natural and derived from the leaves of stevia plant, it does not contain any harmful chemicals often found in artificial sweeteners. Stevia is safe for diabetics, has been shown to help prevent tooth decay, and has even been recommended by the World Health Organization for use as a treatment for hypertension. By replacing sugar with stevia, consumers could potentially decrease caloric intake, helping to reduce obesity and other associated health risks.
Cas No:57817-89-7
Molecular Formula:C38H60O18
EINECS:260-975-5
Stevia product list:
| | | | | | | | | | |
| --- | --- | --- | --- | --- | --- | --- | --- | --- | --- |
| Specification | Total Content, % | Reb-A Content, % | Sweetness of Sugar, times | Specific Optical Rotation | Specific Absorbance, E/CM | Ash, % | Moisture, % | Heavy Metals(Pb), % | Arsenic(As), % |
| Stevioside 90% | ≥90 | ≥20 | 250 | –35°~–38° | ≤0.05 | ≤0.1 | ≤4 | ≤0.001 | ≤0.0001 |
| Stevioside 95% | ≥95 | ≥20 | 270 | –35°~–38° | ≤0.05 | ≤0.1 | ≤4 | ≤0.001 | ≤0.0001 |
| Stevioside 98% | ≥98 | ≥20 | 280 | –35°~–38° | ≤0.05 | ≤0.1 | ≤4 | ≤0.001 | ≤0.0001 |
| Rebaudioside A 40% | ≥90 | ≥40 | 300 | –35°~–38° | ≤0.05 | ≤0.1 | ≤4 | ≤0.001 | ≤0.0001 |
| Rebaudioside A 50% | ≥90 | ≥50 | 320 | –35°~–38° | ≤0.05 | ≤0.1 | ≤4 | ≤0.001 | ≤0.0001 |
| Rebaudioside A 60% | ≥90 | ≥60 | 330 | –35°~–38° | ≤0.05 | ≤0.1 | ≤4 | ≤0.001 | ≤0.0001 |
| Rebaudioside A 80% | ≥95 | ≥80 | 350 | –35°~–38° | ≤0.05 | ≤0.1 | ≤4 | ≤0.001 | ≤0.0001 |
| Rebaudioside A 90% | ≥95 | ≥90 | 400 | –35°~–38° | ≤0.05 | ≤0.1 | ≤4 | ≤0.001 | ≤0.0001 |
| Rebaudioside A 95% | ≥96 | ≥95 | 400 | –35°~–38° | ≤0.05 | ≤0.1 | ≤4 | ≤0.001 | ≤0.0001 |
| Rebaudioside A 98% | ≥99 | ≥98 | 400 | –35°~–38° | ≤0.05 | ≤0.1 | ≤4 | ≤0.001 | ≤0.0001 |
| Enzyme Modified Stevia | ≥80 | | 100 | –35°~–38° | ≤0.05 | ≤0.1 | ≤4 | ≤0.001 | ≤0.0001 |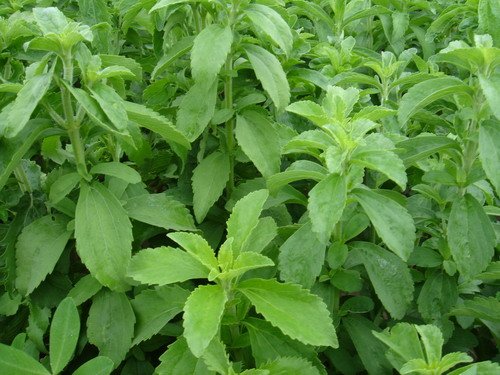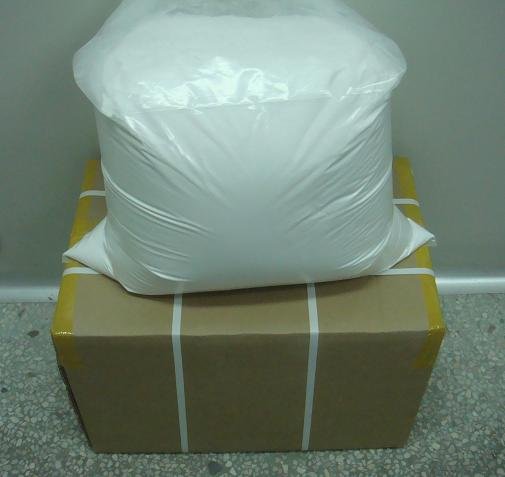 Applications of Stevia:
Variety

Substituted Quantity
of Cane Sugar

Strong Points

Drinks

10-15%

1)Improve taste 2)Extend shelf life 3)Lower productive cost
4)Suitable for sugar-avoiding persons

Medicine

As per actual needs

1)Lower cost 2)Increase health-care

Frozen Food

10-25%

Increase sweet taste in addition to other points

Canned Food

20-50%

1)Clear in taste 2)Reduce sweet-tiredness 3)Extend shelf life

Aquatic Products

30-50%

1)Prevent going bad and moldy 2)Avoid loose appearances
3)Improve taste and lower cost

Candied Fruits

20-30%

Improve taste and lower cost

Flavoring

20-30%

1)Improve taste and extend shelf life 2)Shorten salting time and prevent dewatering 3)No brown stain

Salted Products

20-40%

1)Improve taste and extend shelf life 2)Lower productive cost

Toothpaste

As per actual needs

1)Extend sweet taste 2)Lower growth of bacteria and reduce dentist disease

Beer

10-40%

1)Improve taste 2)Enrich and whiten foam

Fruit Liquor

50%

1)Improve taste 2)Reduce sweet-tiredness

Liquor

10-20%

Remove the taste of hotness